Hillary Clinton: Biden's decision to leave Afghanistan will have 'huge consequences'
Follow Us
Search
Search Keyword:
Sign Up For Our
Daily Newsletters
Breaking News Alerts
Enter your email address:
Front Page Podcast

Recommended
Elimination of 'qualified immunity' a stumbling point in policing reform talks

Quiz: Can you name the TV show from its popular theme song?

'Understand the threat': Efforts to ban critical race theory in schools meet rocky reception

Quiz: Can you pass a pandemics, plagues and infectious diseases test?

Law used against Trump allies now at center of Giuliani probe
SPONSORED CONTENT

SPONSORED CONTENT
Commentary

For the love of Dog, burn your facemask …

Kay C. James
Biden's non-infrastructure infrastructure bill
Ronald Kessler
Joe Biden and Jimmy Carter, two of the phoniest presidents in American history
Question of the Day
Should the government start paying people to get a COVID-19 vaccination?
Question of the Day

Yes, get more people vaccinated

No, people should do it for free

Maybe, that might convince me

No amount of $ would convince me
Story TOpics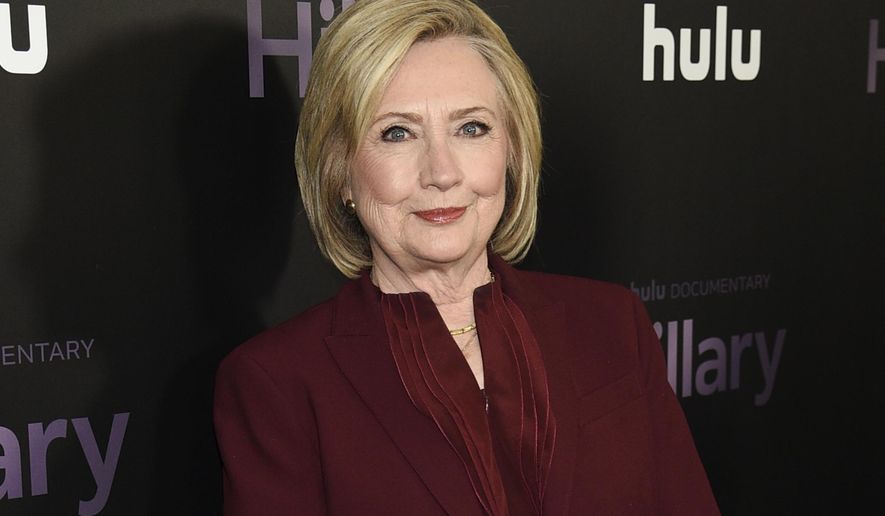 Former secretary of state Hillary Clinton attends the premiere of the Hulu documentary "Hillary" in New York on March 4, 2020. (Photo by Evan Agostini/Invision/AP, File) more >
By Jessica Chasmar
–
The Washington Times
–
Monday, May 3, 2021
Hillary Clinton said Sunday that President Biden should be prepared for "huge consequences" in the Middle East after his decision to withdraw all U.S. troops from Afghanistan by Sept. 11, the 20th anniversary of the 9/11 attacks.
The former secretary of state, who strongly supported the U.S. military interventions in Afghanistan and Iraq after the 9/11 attacks, said the president's decision to withdraw 2,448 U.S. troops from Afghanistan could lead to a refugee crisis and a massive resurgence in terrorism.
"I know it's a very difficult decision," Mrs. Clinton told CNN's Fareed Zakaria. "This is what we call 'a wicked problem.' You know there are consequences, both foreseen and unintended, of staying and of leaving. The president has made the decision to leave.
TOP STORIES
State legislatures on track to make history with 'unprecedented' wave of pro-life bills
James O'Keefe's Project Veritas announces anti-defamation legal arm with music video
Mitch McConnell: 'We are not going to revisit the 2017 tax bills'
"And I think that our government has to focus on two huge consequences," she continued. "One, the potential collapse of the Afghan government and a takeover of Afghanistan by the Taliban, probably with a resumption of civil war in certain parts of the country, but a largely Taliban-run government at some point in the not-too-distant future.
"How do we help and protect the many, many thousands of Afghans who worked with the United States and NATO, who worked with American and other NATO-connected contractors, who stood up and spoke out for women's rights and human rights?" she asked. "I hope that the administration, in concert with the Congress, will have a very large visa program and will begin immediately to try to provide that channel for so many Afghans to utilize so that they are not left in danger. There will also be, I fear, a huge refugee outflow.
"And of course, the second big set of problems revolves around a resumption of activities by global terrorist groups, most particularly al Qaeda and the Islamic State," she added.
"And so I think these two huge sets of issues have got to be addressed. I mean, it's one thing to pull out troops that have been, you know, supporting security in Afghanistan, supporting the Afghan military, leaving it pretty much to fend for itself. But we can't afford to walk away from the consequences of that decision," she said.
Mrs. Clinton stopped short of saying she opposed the decision.
The Democrat's comments followed an Axios report that she and Condoleezza Rice, a Republican, both raised concerns about Mr. Biden's withdrawal plans during a Zoom call Wednesday with members of the House Foreign Affairs Committee. Both of the former secretaries of state spoke during the call about protecting U.S. diplomats on the ground and the potential consequences a troop withdrawal would mean for the global war on terrorism, Axios reported.
During her interview with CNN, Mrs. Clinton gave Mr. Biden an A grade for his first 100 days in office.
"He has once again embodied and modeled what a president should act like in the Oval Office, in the White House, in the world at large, with dignity, with purposefulness, with care for what he says and how he treats people," she said. "I mean, we now have a mature, experienced president, and thank goodness we do."