U.S. 'far left' susceptible to Chinese government's COVID disinformation: Report
Follow Us
Search
Search Keyword:
Sign Up For Our
Daily Newsletters
Breaking News Alerts
Enter your email address:
Front Page Podcast

Recommended
Elimination of 'qualified immunity' a stumbling point in policing reform talks

Quiz: Can you name the TV show from its popular theme song?

'Understand the threat': Efforts to ban critical race theory in schools meet rocky reception

Quiz: Can you pass a pandemics, plagues and infectious diseases test?

Law used against Trump allies now at center of Giuliani probe
SPONSORED CONTENT

SPONSORED CONTENT
Commentary

Differences between Joe Biden and Tim Scott

Chamber of Commerce's misguided support of Dems' costly economic agenda

The war for the soul of America
Question of the Day
Should the government start paying people to get a COVID-19 vaccination?
Question of the Day

Yes, get more people vaccinated

No, people should do it for free

Maybe, that might convince me

No amount of $ would convince me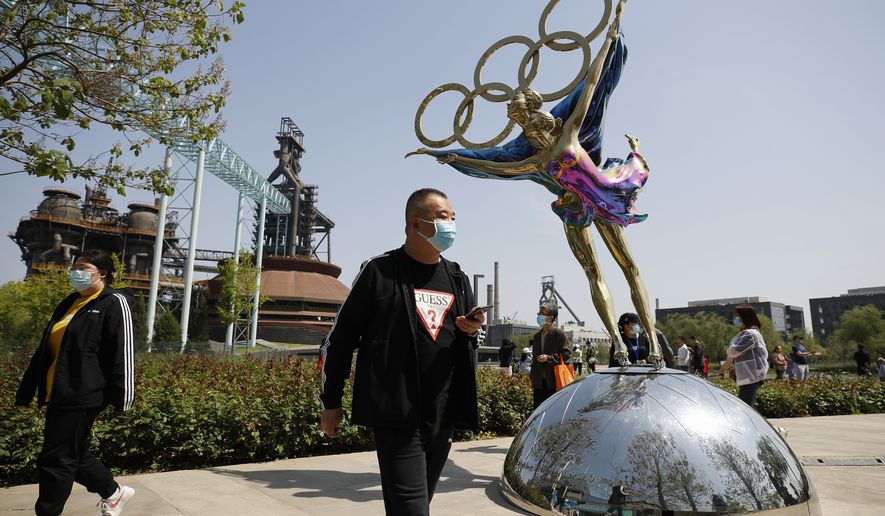 Visitors wearing face masks to help curb the spread of the coronavirus walk by a statue featuring Winter Olympics figure skating on display at the Shougang Park in Beijing, Sunday, May 2, 2021. Chinese tourists are expected to make a … more >
By Guy Taylor
–
The Washington Times
–
Monday, May 3, 2021
Americans on the far left, including "Trump administration critics" and "capitalism skeptics," are most likely to have soaked up Chinese government disinformation about the origins of the coronavirus, according to a new report by a prominent U.S. think tank.
The report by the RAND Corporation builds on claims by U.S. intelligence and State Department officials that China and Russia seized on the COVID-19 pandemic to engage in subversive, state-run media and other operations aimed at discrediting the U.S. and promoting their respective global agendas.
"Both countries attempted to tarnish the reputation of the United States by emphasizing challenges with its pandemic response and characterizing U.S. systems as inadequate," according to the report circulated to journalists on Monday.
TOP STORIES
Mitt Romney hands Trump a victory
MSNBC host Tiffany Cross calls Sen. Tim Scott 'token,' 'tap dancer': 'Thirsty for White approval'
Supreme Court rejects West Point cadet's case after rape allegations on campus
"Both countries disseminated messages through a wide variety of channels and platforms, including social media" and both "falsely accused the United States of developing and intentionally spreading the virus," the report said, adding that Moscow and Beijing "appeared to differ in their principal goals."
"Russia aimed to destabilize the United States," while "China aimed to protect and enhance its international reputation," the report said.
Circulation of the roughly 70-page RAND document comes a year after U.S. officials first highlighted Chinese and Russian disinformation efforts around COVID-19 — operations officials have described as also being backed by Iranian government efforts to project bogus claims aimed at smearing America's image on the world stage.
In an exclusive March 2020 interview with The Washington Times, the head of a key State Department counterdisinformation office outlined how Beijing, Moscow and Tehran were using a vast web of social media accounts, fake news outlets and state-controlled global satellite media to promote lies by academics and, at times, government officials to blame Washington for the pandemic.
Lea Gabrielle, who was then serving as special envoy heading the department's Global Engagement Center, told The Times that U.S. officials were particularly concerned about Chinese government efforts to push disinformation about the pandemic in a bid to make China appear as a superior global power to the United States.
Beijing, Ms. Gabrielle said at the time, was "engaged in an all-out aggressive campaign to try to reshape the global narrative around the coronavirus, essentially to the degree of trying to provide an alternate reality."
Other news outlets picked up on the developments, with The New York Time reporting weeks later that Beijing was being "more overtly aggressive" than Moscow in its disinformation campaign.
The RAND report circulated Monday homed in on efforts that were made by Chinese officials early in the pandemic to amplify Russian disinformation about COVID-19s origins.
"Chinese Foreign Ministry official Zhao Lijian retweeted an article from a Kremlin-linked source, Global Research, stating that the virus originated in the United States and was brought to China by the U.S. military," the report noted. "Chinese media also suggested that the United States was covering up the true start date of the virus spread in the United States to obfuscate the truth about the virus's origins."
Consensus among scientists is that the virus began in China and that the Chinese government has for more than year been blocking U.S. and other international efforts to investigate its origins. While Beijing disputes such claims, an investigation last year by The Associated Press found the Chinese government was strictly controlling all research into the virus' origins.
The RAND report, meanwhile, analyzed nuanced differences in Russian and Chinese disinformation campaigns, as well as audience susceptibility to both.
"China-linked messaging was more uniform across different outlets; this suggests that operators did not attempt to target specific polarized audiences or to purposefully appeal to a wide variety of audiences in the United States," the report said. "However, during the time frame that we analyzed (January 2020 to July 2020), messages critical of the U.S. response to the pandemic might have resonated with critics of the Trump administration, those on the left of the U.S. political spectrum, and those concerned with the federal pandemic response."
"It is also possible that some of the messages about the origins of the virus could be attractive to conspiracy theory enthusiasts with different political views and affiliations," the report added. "Overall, China-linked messaging could be of interest to U.S. audiences on the farther left of the political spectrum — Trump administration critics, conspiracy enthusiasts, and capitalism skeptics among them."